Motorcycle Accident
Motorcycle Accident
Have you had a motorcycle accident? Do you need to claim back the cost of the repairs or is it a write off? What about your helmet and clothes? If you have been injured falling off your motorcycle accident we can help.
Motorcycle Accident
Motorcyclists are roughly 38 times more likely to be killed in a road traffic accident than car occupants, per mile ridden. In 2013, 331 motorcyclists died. The same year, 4,866 were seriously injured in road collisions according to Think.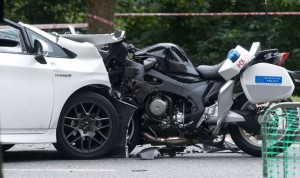 Being safe on the road is so important. This includes being aware of the vehicles around you and them of you. It is tempting to go fast but remember but stick to the speed limit.
Poor road design and poor maintenance of roads can lead to accidents. Potholes and slippery grids can be deadly.
More than 80 percent of all motorcycle crashes result in injury or death to the motorcyclist. There is no protection for the rider other than good quality motorcycle clothing.
A motorcyclist is 16 times more likely to die in a crash than an automobile driver. Wearing a motorcycle helmet reduces that risk by 29%. Always wear a helmet.
Sustaining a head injury is a leading cause of death in motor cycle crashes. If you don't wear a helmet you are more likely to die from a head injury.
Always replace your helmet if you are involved in a fall from a motorbike. Even if it doesn't look damaged, the internal structure of the helmet may be compromised and not afford you protection next time
How we help
If you need help we can help you with:
Private treatment & rehabilitation to help you recover from your injury
Compensation for your injury
Repair or replace your motorcycle
Replace any damaged accessories, including helmets
Help you recover the cost of any loss of earnings because of time off work
Recover any medical expenses related to your cycle accident
Not only do we provide you with links to specialist rehabilitation providers but also experts in motorcycle repairs. We ensure that you are physically and mentally prepared to get back out there doing what you love.
Call us today on 0845 676 9228 where we will be happy to talk you through the accident claims process.
We will put your mind at ease about what you can expect.
We are here to make a difference and help you on the road to recovery and back on your motorcycle.
Either contact us or email us enquiries@handleylaw.co.uk.