Vibration White Finger
Vibration White Finger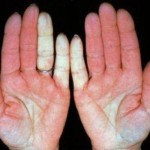 Have you been diagnosed with Vibration White Finger (VWF)? Do you want to make a claim for compensation for Vibration White Finger?
It is linked to Hand Arm Vibration Syndrome (HAVS). It is caused by vibrating machinery such as power drills, jack hammers and chainsaws.
Symptoms of Vibration White Finger
The affliction may not immediately become apparent. It can take months and sometimes years for symptoms to develop. Symptoms include:
Loss of Colour in Fingers
Decreased Sensitivity in Fingers
Tingling or Numbness in Fingers
Loss of Manual Dexterity
Vibration White Finger is a secondary form of Raynaud's Disease. This is a condition which affects the blood vessels, muscles and joints.
At first the symptoms may disappear. Continued exposure to vibration makes the symptoms much worse. Very often it becomes permanent.  In some cases you can lose your fingers.
Symptoms fluctuate, becoming worse the longer the person works with vibrating machinery. Many workers do not seek medical advice until it is too late.  
Claim Compensation for Vibration White Finger
Making a claim for compensation relating to vibration white finger doesn't have to be a stressful process. Our team of experienced solicitors understand how difficult a situation it is for those who have suffered as a result of an industrial disease. We can help by:
Home Visits
Friendly, Discreet and Professional Service
No Win No Fee
Regular Updates on your Claim
You can claim for:
Pain, Discomfort, Suffering and Loss of Amenity
Private Treatment
Assessment of Future Risks to Your Health
Loss of Earnings
Care
Medication
Speak to Specialist Occupational Disease Solicitors
If you have suffered vibration white finger and want to claim we have experience of helping people in need gain the justice they deserve after suffering unnecessarily.
Speak to a friendly and discreet member of our team by calling 0845 643 9886 or contact us or contacting Dr Victoria Handley herself by emailing vhandley@handleylaw.co.uk