What can we do to encourage culture specific elder care?
We always advocate that elder care should be safe, respectful and dignified. A care home should be a home from home. We were therefore particularly interested to read about culture specific elder care retirement communities.
Aegis Gardens
Aegis Gardens is an assisted living facility for the Chinese community in California with a focus on Chinese culture. The retirement community is designed to be warm and inviting with thoughtfully-designed architecture and interiors, exceptional menus, enticing activities, and caring Chinese-speaking staff. With assisted living and dedicated care for Alzheimer's and dementia.

De Hogeweyk
In Holland, De Hogeweyk is part of the nursing home organisation Hogewey. Commonly known as dementiaville it has received much interest as a culture specific elder care facility. It is a gated model village in Weesp, in Netherlands specifically designed as a pioneering care facility for elderly people with dementia. The village has been well thought out and all aspects of care are considered.
They have introduced all-day reminiscence therapy. This form of therapeutic intervention respects the life and experiences of the individual with the aim to help the patient maintain good mental health.  The benefit of using all-day reminiscence therapy, compared to traditional nursing homes, is that the residents with dementia are more active and require less medication.
Carers, doctors and nurses work around the clock to provide the 152 residents at De Hogeweyk the necessary 24-hour care. It is built on the principle that people generally prefer to surround and interact with other like-minded people of similar backgrounds and experiences. The arrangement at Hogewey provides this by ensuring that residents with similar backgrounds continue to live closely together. The Hogewey complex is set out like a village with a town square, supermarket, hairdressing salon, theatre, pub, café-restaurant—as well as the twenty-three houses themselves. Each house reflects a different style that is common to, and familiar for, the six or seven people who live in that house.
ShantiNiketan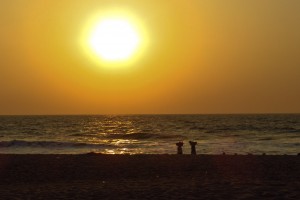 ShantiNiketan (pronounced shan-tee-nick-KAY-ten) means "House of Peace" in Hindi, and is the first culture specific elder care retirement community created for Americans from India. Again it is the rich colours of the decor, food specific to India, religious ceremonies and languages spoken which provides familiar comfort to its residents. It appears that culture-specific senior living is on the rise and offers great benefits to residents.
Being surrounded by your culture is of great comfort for the elderly whether it is religious practices, languages spoken, the cuisine, hobbies and crafts to the ambience of the home. Feeling connected and understood is vital to all human beings. As we age we want to be surrounded by what is most familiar to us. Shared interests and backgrounds live together in a lifestyle-group. The design and decoration of the homes and surroundings is tailored to the lifestyles.
A culture specific elder care home which offer a sense of community, offers residents familiarity, comfort and happiness in their senior years — all of which contribute to their overall quality of life. So whether it is food from their country of origin, their first language, activities, games and music from their culture, religious services or decor it adds to that place feeling like home.
Such a home must be comfortable to live. It must feel safe at home. Residents must enjoy living out their final days, connected with family, caregivers and healthcare providers. It is to be a place where they can enjoy the precious life they were used to and still want to lead.
All humans, no matter the culture, look back as we age. We reflect on our childhood with fondness. We understand more of the world and want to practice our beliefs freely, and be among people who understand and share our cultural past. This is especially important for dementia sufferers who benefit greatly from music, food and traditions from the past helping them stay connected to the present. A culture specific elder care home fulfils those needs.
If it contributes to the overall enjoyment of your elder years then a culture specific elder are home makes sense and care home owners have a lot to learn and implement.
If you have any issues with a care home that your loved one is residing in and you feel that your loved one is suffering as a result then please get in touch with Dr Victoria Handley on 0800 470 2009 or email vhandley@handleylaw.co.uk today