Dianette Concerns
If you have been prescribed Dianette as an acne drug or contraception you may be concerned to hear  of the deaths have been linked with the drug. It is licensed as a second-line treatment for women with severe acne or moderately severe hirsutism but can lead to serious complications.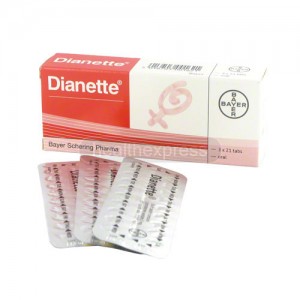 Dianette contains an oestrogen and an anti-androgen and is used to treat skin conditions such as acne, very oily skin and excessive hair growth in women of reproductive age. Due to its contraceptive properties it should only be prescribed if your doctor considers that treatment with a hormonal contraceptive is appropriate.
Deaths from Dianette
A review of the benefits and risks of co-cyprindiol was initiated in January 2013 following concerns in France about the risk of venous thromboembolism (VTE) and off-label use as a contraceptive. France banned its use.
Dianette concerns arose as a result of the deaths of 7 women who had died as a result of its use. The UK still allows its use and actively promotes it as a option for acne or contraception.
Dianette Concerns – what do I look for?
If you have Dianette concerns, stop taking the tablets and see your doctor immediately. Possible signs of a blood clot inlcude:
an unusual sudden cough
severe pain in the chest which may reach the left arm;
breathlessness; any unusual,
severe, or long-lasting headache or worsening of migraine;
partial or complete loss of vision, or double vision;
slurring or speech disability;
sudden changes to your hearing, sense of smell, or taste;
dizziness or fainting; weakness or numbness in any part of your body;
severe pain in your abdomen;
severe pain or swelling in either of your legs.
Following a blood clot, recovery is not always complete and unfortunately in rare occasions permanent disabilities may occur or the blood clot may even be fatal.
The review by MHRA (Medicines and Healthcare products Regulatory Agency) concluded that the balance of benefits and risks of co-cyprindiol (Dianette) remained positive; however, some important changes to product information for prescribers and women were made to highlight the risks and complications.
MHRA Stance on Dianette
The MHRA concluded that the available observational data had limitations, but taken together their findings provided sufficient evidence that co-cyprindiol had a 1.5–2 times statistically significant increase in VTE risk (deep vein thrombosis, DVT, or pulmonary embolism, PE) compared with levonorgestrel-containing pills.
I have had side effects – what can I do?
If you have experienced side effects and have Dianette concerns then get in touch with Dr Victoria Handley on Freephone 0800 470 2009 or email vhandley@handleylaw.co.uk
We will encourage you to report your side effects to the MHRA via the 'Yellow Card' scheme. This helps the MHRA track data as well as others who may have been prescribed the drug.