Gamekeepers Thumb
Gamekeepers Thumb
What is Gamekeepers thumb?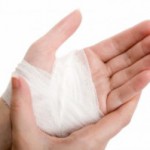 Gamekeepers Thumb is an injury to the ulnar collateral ligament (UCL) of the thumb. It happens when it is torn or detached.
It commonly occurs in people who sustain a fall or trauma to an outstretched hand. Gamekeeper's thumb is difficult to treat because the UCL has lengthened and become thinner as a result of repeated injury.
It is also known as 'Skier's thumb' and happens when you fall on an outstretched hand. It happens especially if you are holding something when you fall.
It is closely related to a 'Bennetts Fracture'. A Bennetts fracture happens when you say, fall from a bike. The thumb is extended while around the handle bars on impact.
A 'Rolando Fracture' is a similar fracture but has a worse prognosis than a Bennetts Fracture.
Have you fallen at work, in the street or in a shop? Have you been diagnosed with gamekeepers thumb? You could make a claim for compensation and treatment.
What are the symptoms of Gamekeepers Thumb?
Instability in the joint
Pain and weakness in the pinch grasp
Pain
Swelling
Bruising around the joint of the thumb
You may also experience a weakened ability to grasp objects. You may not be able to perform such tasks as tying shoes and tearing a piece of paper.
Other complaints include intense pain experienced upon catching the thumb on an object. For example, when reaching into a trouser pocket.
Gamekeeper's thumb typically refers to a chronic condition which has developed as a result of repeated episodes of lower-grade hyperabduction over a period of time.
The most common mechanism of injury is when a person extends the arm in an attempt to block a fall.
The stress resulting from falling onto an abducted thumb produces a valgus force on the MCP joint of the thumb, resulting in a sprain or tear of the UCL.
What you may be able to claim for:
Compensation for pain, suffering and loss of amenity;
Cost of private treatment;
Assessment of future risks of to your health;
Loss of earnings;
Care;
Medication.
What we guarantee:
Friendly, discreet and professional service;
No win No fee;
Regular updates.
Don't delay speak to someone today 0845 676 9228 or contact us or email Dr Victoria Handley in confidence vhandley@handleylaw.co.uk