Occupational Asthma Compensation Claim
Occupational Asthma Compensation Claim
What is Occupational Asthma?
Have you been exposed to substances known as 'respiratory sensitisers' or asthmagens?
They can cause an allergic reaction.  They can cause a hypersensitive state in the airways. Not everyone goes on to develop asthma. However, once the lungs are hypersensitive, any exposure to these substances may trigger an attack.
You do not have to already suffer from asthma to be affected. However, if you have asthma you are more likely to contract occupational asthma.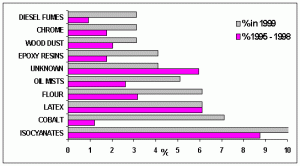 Symptoms of Occupational Asthma
You may be suffering from occupational asthma if you suffer from any of the following:
Coughing,
Wheezing,
Tightness in the chest,
Difficulty breathing,
Rhinitis (sneezing/runny nose), or
Conjunctivitis(itchy and inflamed red eyes)
If these symptoms seem familiar to you go and see your GP.
Symptoms can appear immediately or several hours after the exposure. Asthma is debilitating and frustrating. We understand that you are stressed and worried. Our experienced team can help you gain treatment as well as compensation.
Types of exposure
Wood dust
Coal dust
Welding fumes
Coke
Mould from hay
Certain vapours from chemicals and gases
Flour
Fumes from glues and resins
Please note that the above list is not exhaustive.
Occupations that see the highest rate of occupational asthma are bakers and vehicles paint sprayers. The most common root causes were isocyanates (involved in the production of polyurethanes) followed by flour.
Any claim for compensation would be made against your current or former employer. If they are no longer trading we may still be able to trace the insurance company for your claim.
Occupational Asthma Compensation
Getting the right type of help is always important. You want to ensure that you get the very best care and attention and that you and your family are looked after and that is what we are here to do for you.
We will find you specialist treatment close to your location. We seek the maximum amount of compensation that you are entitled to whilst you focus on what is most important, your health and your loved ones.
What we guarantee:
Friendly, discreet and professional service
No win No fee
Regular updates
If you think you may have a claim for occupational asthma then call us on 0845 676 9228 for advice on how to claim or contact us or email Dr Victoria Handley vhandley@handleylaw.co.uk