Smoking Cuts Life Expectancy In Motor Neurone Disease
Amyotrophic lateral sclerosis (ALS) is also known as Lou Gehrig's disease and motor neurone disease. It is a specific disease that causes the death of neurons which control voluntary muscles. It is characterised by stiff muscles, twitching, worsening weakness due to muscle decreasing in size. This results in difficulty in speaking ,swallowing and eventually breathing.
A new study has shown that smoking cuts life expectancy in motor neurone disease. Researchers found that smoking affected ALS prognosis. Smoking is a risk factor for development of ALS but is also modifies the prognosis of the disease as it affects the genome rather than the respiratory effect on the patient.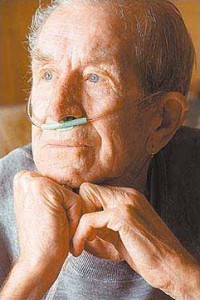 The Smoking Cuts Life Expectancy In Motor Neurone Disease study was published in the Journal of Neurology Neurosurgery and Psychiatry. The study found that current smokers were younger at disease onset (64.9 years) than former smokers (67.6 years) and those who had never smoked (66.3 years). Sadly, current smokers had a significantly shorter average survival (1.9 years) compared with former smokers (2.7 years). In the 44 patients with COPD the survival time was significantly lower than in patients without.
For the first time, doctors have data demonstrating a lifestyle habit which is environmental that has an effect on the disease and that smoking cuts life expectancy in motor neurone disease.
Is Smoking Already a Cause?
In 2011 Scientists in the US found a possible link between smoking and developing motor neurone disease. Figures from five long-term studies showed smokers had a 42% higher risk of developing a form of the disease than those who had never smoked.
Heavy smokers were at greater risk than lighter smokers, according to the scientists, who found the risk increased by 10% for every 10 cigarettes smoked each day. Writing in the journal Archives of Neurology, the researchers said: 'Several possible mechanisms by which cigarette smoking might influence the risk of ALS have been suggested, including direct neuronal damage from nitric oxide or other components of cigarette smoke (such as residues of pesticides used in tobacco cultivation) or from oxidative stress.
Thus smoking is a possible cause of the disease and smoking cuts life expectancy in motor neurone disease.
As specialists in clinical negligence we are always interested in new studies and data on medical diagnosis and understanding. If you have a medical negligence issue that you wish to discuss then call us free on 0800 470 2009. It costs nothing to find out if you have a claim.